CHEESE is an international event organized by Slow Food and is held every two years in my small town of Bra (population: 30,000).  Over four days visitors can explore every quality cheese on the planet, and also sample beer, wine, and specialty street foods from far and near.
Thus, this weekend over 150,000 people ventured to Piemonte from all over the world for one reason. Formaggio.
With guidance from my classmates, I reserved my space in a Taste Workshop back in June, as they sell out months before the event takes place. I was enticed by many listings, "Comté and Grenache" – "Artisanal Mountain Cheeses" – "Italian Pubs: Beer & Cheese" but, this Saturday, I found myself sitting in a session on "Raw Milk of South Africa." With a plate of cheese and three glasses of wine, it was just like another day at uni…
Six years ago I traveled to South Africa for two weeks and strangely I don't remember having much, if any, cheese. I distinctly remember the fish and the game, and of course the wines, but cheese was not something that stuck out to me.  Perhaps that is because, as I learned in this session, raw milk cheeses of South Africa are extremely isolated and only now taking hold, even within their own nation. In the last few years, though, the South Africa cheese scene has finally hit the forefront of gastronomy with a very special focus on artisan producers. For this reason, four SA cheese-makers shared with us their stories (and their cheese!), and they were all simply thrilled to be at such a huge international event, with the opportunity to share with the world their great work.
South Africa is a nation with many varying climates, from the ocean to the desert to the sub-tropical; it is a nation that offers diverse conditions for dairy farms, as was evidenced by the various cheeses we sampled.  With this recent growth in number of producers has also come improved quality and wider variety, which will hopefully appeal to a wider base of consumers. For now, South Africa has me hooked on these highlights from the tasting:
–  Karoo Crumble – Langbaken– A raw milk, natural rind, cows milk cheese. This was light, slightly dry, and very smooth on the mouth. The panel compared it to a cheddar, but I found it less dense and more buttery. Delicious.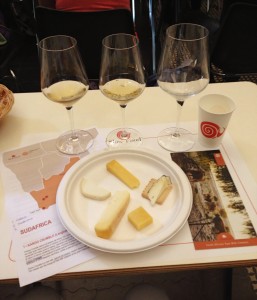 –  Ash Camembert – Langbaken – This twist on the classic Camembert is made with milk from the same cow's as the first. A very soft cheese, almost runny in the middle, it had an elegant intensity that literally melted onto your tongue. Paired with a flowery and powerful Trebbiano, this combination was to die for!
– Ficksburger – Green Goose Organics – This was far and away my favorite. A firm and tangy cheese with a matured rind, the center of this cheese had a beautiful texture and a strong aroma of yeast.  In the French style, this cheese offered a perfect balance to me and left a sweet nuttiness on my tongue.