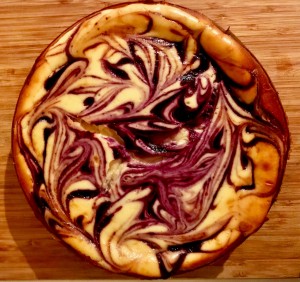 I was never a big fan of cheesecake until I made the association of cheesecake as a cheese course rather than a cake. On the rare occasion dining out that you might opt for what most would consider a hors d'oeuvre, a cheese plate certainly offers rich, decadent flavor, and often a fruity and/or acidic component to cut the fat and give balance. In this way, I equate a light, fluffy blueberry lemon cheesecake with what it really is – a cheese course.
Here is my in-progress recipe, adapted from Taste of Home
Blueberry-Lemon Cheesecake
TOPPING/SWIRL INGREDIENTS
1-1/2 cups fresh blueberries
1/4 cup sugar
2 tablespoons lemon juice
1 tablespoon lemon zest
2 teaspoons cornstarch
1 tablespoon cold water
CRUST INGREDIENTS
1 cup graham cracker crumbs (about 16 squares)
2 tablespoons sugar
2 tablespoons butter, melted
1 tablespoon lemon zest
FILLING INGREDIENTS
3 packages (8 ounces each) cream cheese, softened
1 cup sugar
1 cup light sour cream
2 tablespoons all-purpose flour
2 teaspoons vanilla extract
1 teaspoon lemon extract
4 large eggs, lightly beaten
Directions
In a small saucepan, combine the blueberries, sugar and lemon juice. Cook and stir over medium heat for 5 minutes or until the berries are softened. Combine cornstarch and water until smooth; stir into the blueberry mixture. Bring to a boil; cook and stir for 2 minutes or until thickened. Remove from the heat and add lemon zest; cool to room temperature. Transfer to a blender or magic bullet; cover and process until smooth. Set aside.
For crust, in a small bowl, combine the crumbs (I use a food processor to pulverize them), lemon zest and sugar; stir in the butter. Press onto the bottom of a greased 9-in. springform pan. Place pan on a baking sheet. Bake at 350° for 10 minutes. Cool on a wire rack.
In a large bowl, beat cream cheese and sugar until smooth. Beat in the sour cream, flour and vanilla. Add eggs; beat on low speed just until combined. Pour filling over crust. Drizzle with 4 tablespoons blueberry mixture; cut through batter with a knife to swirl.
Return pan to baking sheet. Bake at 350° for 40-45 minutes or until center is almost set. Cool on a wire rack for 10 minutes. Carefully run a knife around the edge of pan to loosen; cool or refrigerate until serving. Serve with remaining blueberry sauce drizzles on each slice.