In my family chocolate chip cookies and brownies trump all other desserts. And so was born the dirty blondie, offering the best of both worlds!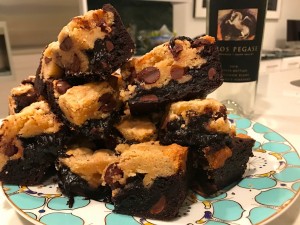 Cookie Layer
(adapted from Pinch of Yum) 1 stick salted butter, room temp. ¾ cup white sugar 2 tablespoons brown sugar, packed 1 egg 1 teaspoon vanilla extract 1 cup + 2 tablespoons flour ½ teaspoon baking soda ¼ teaspoon salt 1 cup dark chocolate chips
Brownie Layer
6 tablespoons butter
2 ounces unsweetened chocolate
1/2 teaspoon vanilla extract
1 cup granulated sugar
2 large eggs
3/4 cup all-purpose flour
1/4 teaspoon baking powder
1/4 teaspoon salt
With an electric mixer, cream butter and sugars in a small mixing bowl. Add vanilla and egg; cream again until smooth. Add the flour, baking soda, and salt. Stir gently until incorporated. Stir in chocolate chips. Store in refrigerator until ready to use.
Preheat oven to 350 degrees.
For the brownie batter, in a saucepan over low heat, melt the butter and chocolate, stirring constantly. Remove from heat and let cool. With a whisk, beat in the vanilla and sugar. Whisk in eggs, one at a time, beating well after each addition.
Stir flour, measure into a small bowl, and stir in the baking powder and salt, blending well. With a wooden spoon, stir the flour mixture into the first mixture.
Pour brownie batter into a glass 8×8 or 9×9 baking dish. Scatter pieces of cookie dough over the top of the brownie batter. Press gently on the dough just until it starts to sink down into the batter a little bit.
Bake for 35-40 minutes (35 for gooey, 40 or more for fully baked), covering with foil if you need to keep the cookies from getting too brown on top. Let stand for 15-20 minutes and cut into pieces for serving.