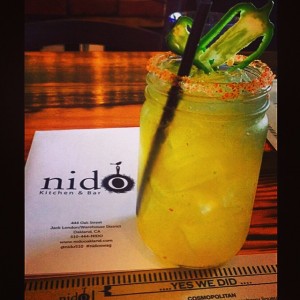 Following (rigorous) life in San Diego, I took a short hiatus from tequila when I moved to NYC. But to this day, a spicy margarita is one thing I have trouble turning down…particularly on snowy days like today. These sweet and spicy concoctions, always featuring some unique intricacy or accoutrement, balance heat and tang in perfect equilibrium.
Back in the Golden State, at Oakland's Nido, the Margarita Picosa is white Cimarrón blended with house infused pepper tequila and a splash of lime and orange juices. The rim is spiced salt, similar to Tajin but with a fresher flavor of zest. Had I known they offered it, I would have opted for the lava salt rim, which gives amazing depth to their mezcal-based beverages.
It's certainly an acquired taste, but particularly when balanced by the omni-present guacamole at such a table, or the smoky mole we sampled on this particular day, the spice finds a balance that I prefer to the often over-powering sweetness of a tart lime original. The beauty here, also, is adding seasonal fruit like watermelon or strawberry – even pear, which lend a natural sweetness and layer of complexity.
At the very least, the kick will keep you (so-cal) warm as the snow continues to fall!