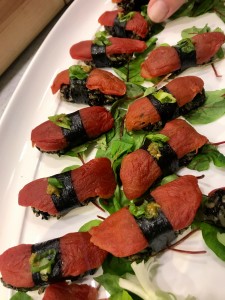 This week I attended Menus of Change, a sustainable food conference for professional chefs and foodservice operators focused on food transparency and plant-forward eating. The conference is eye-opening, featuring speakers from all corners of the food innovation world from Kimbal Musk (Kitchen Denver) and Corby Kummer (The Atlantic) to McDonald's and Sonic.
One standout moment this year, perhaps equal with the launch of Sonic's blended burger, was an innovation by Ocean Hugger Foods called Ahimi – A faux tuna product developed by Chef James Corwell.
We all (okay not all, but if you're reading this you probably do) know that blue fin tuna is an endangered species and somehow still shows up in fish markets. In fact seafood is now almost always the top issue noted in food sustainability discussions. So why not create a sustainable alternative designed to have the taste and texture of tuna, but made entirely plant-based. The sous vide tomato is clean and unprocessed (the finer details are kept a secret by Chef Corwell and Ocean Hugger) but essentially it's just water, tomatoes, soy sauce, and vinegar.
"[Our] mission is to support sustainability of the oceans, protect wildlife, and create a world where people can experience the delicious culinary tradition of sushi without harming the oceans."
Firm, juicy, and bursting with savory flavor, the world's first plant-based alternative to tuna has set the bar high by demonstrating the endless possibility for sustainable innovation.