A take on our family's favorite birthday treat — Angela Mia Chocolate Mousse Cake. This version is slightly less dense and doesn't include a chocolate chip siding (however, you could certainly add it, as you wish!) Best served with homemade vanilla ice cream!
Imperative ingredients: booze in the mousse– your choice, but Kahlua works extremely well. Also the darkest cocoa powder you can find for the cake as well as the ganache!
Optional additions: Berries on top, chocolate chips, jam or ganache layer within.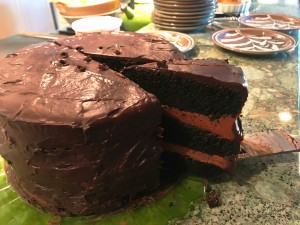 Chocolate Mousse Cake
Ingredients
Cake
2 cups boiling water
1 cup unsweetened dark cocoa powder
2 3/4 cups all-purpose flour
2 1/2 cups granulated sugar
2 teaspoons baking soda
1/2 teaspoon baking powder
1/2 teaspoon salt
1 cup unsalted butter, at room temperature
4 eggs
3 teaspoons pure vanilla extract
Chocolate Mousse
2 cups dark chocolate chips
1 cup whipping cream
3 Tablespoon confectioners' sugar
2 teaspoon vanilla extract
4 Tbsp Kahlua or Godiva liqueur
Chocolate Ganache
1 1/4 cup high quality dark chocolate
3/4 cups whipping cream
Directions
Cake
Preheat oven to 350F.
Grease three 9-inch cake pans and lightly flour
Put 2 cups of water into a saucepan, mix in the cocoa and boil. Stir until combined and smooth, then turn off and set aside to cool.
In a bowl, mix together the flour, sugar, baking soda, baking powder and salt.
In a large bowl, use an electric mixer to beat the butter, sugar, eggs and vanilla together.
Beat in the dry ingredients alternating with the chocolate mixture.
Beat just until blended, do not over mix.
Divide the batter into the three prepared pans and bake for about 30 minutes or until a toothpick inserted in the middle comes out clean.
Remove cakes from oven, place on cooling racks and leave them in the pans for 5 minutes.
Chocolate Mousse
Melt chocolate in a double boiler, or a pot filled with water and bowl. Set aside to cool.
Whip the cream and sugar, to stiff peaks. When chocolate is cool, whisk into cream. Whisk in vanilla and Kahlua. Set aside or store in refrigerator.
Chocolate Ganache
Melt chocolate and cream in a double boiler, or a pot filled with water and bowl. Set aside to cool.
Put chocolate mousse in between layers. Then pour chocolate ganache over top of cake. Serve.